4 things to love about Big White Ski Resort, according to our clients
Sherri Field is an Athletic Director at a school in Ontario, Canada. She is a former Canadian Olympian, having played field hockey in the 1992 Barcelona Olympics; she and her husband, Doug, have two daughters, Riley and Kate.
The four of them won a ski adventure via our competition in 2021 and were so excited about staying at Stonebridge and skiing beautiful Big White resort.
Here, the family shares their favourite things about the resort, along with some of their bonus tips for skiing happily together as a family.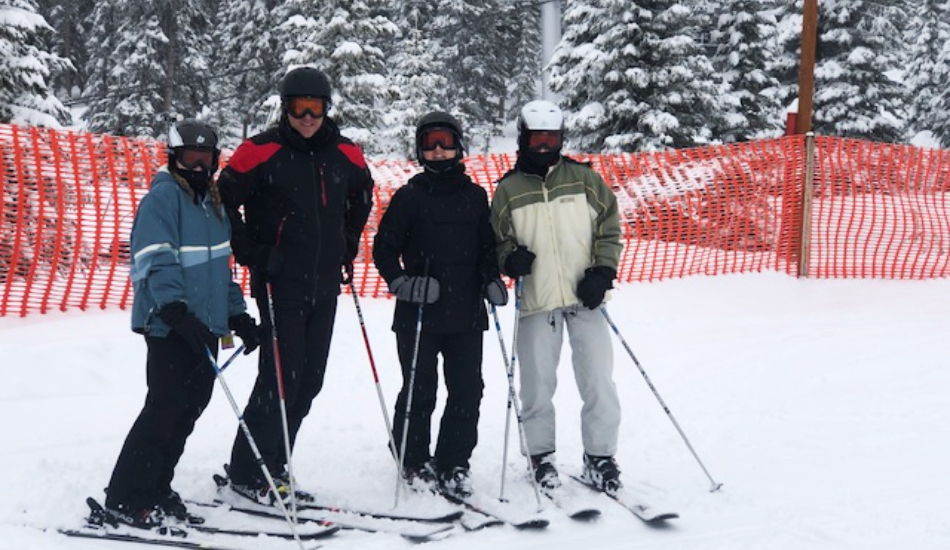 Booking a ski trip is a guaranteed great family holiday
"Skiing is such a wonderful family activity; however, due to COVID and the kids' busy extracurricular schedules, we hadn't been able to ski much over the past number of years," Sherri shares.
"When I realized that we won the trip, it felt surreal! I felt excited at the prospect of taking Doug and the girls on this family trip together to such a beautiful part of Canada."
Sherri and her family were able to spend quality time together on the slopes of Big White, rediscovering their shared love for the sport.
"We loved the freedom, the wide open spaces and the sheer thrill of skiing down big mountains," Sherri says. "Sue Thorley from Stonebridge at Big White met us on our first morning, and gave us a personal guide ski tour around the mountain. By the end of our vacation, both Riley and Kate had well and truly found their ski legs again."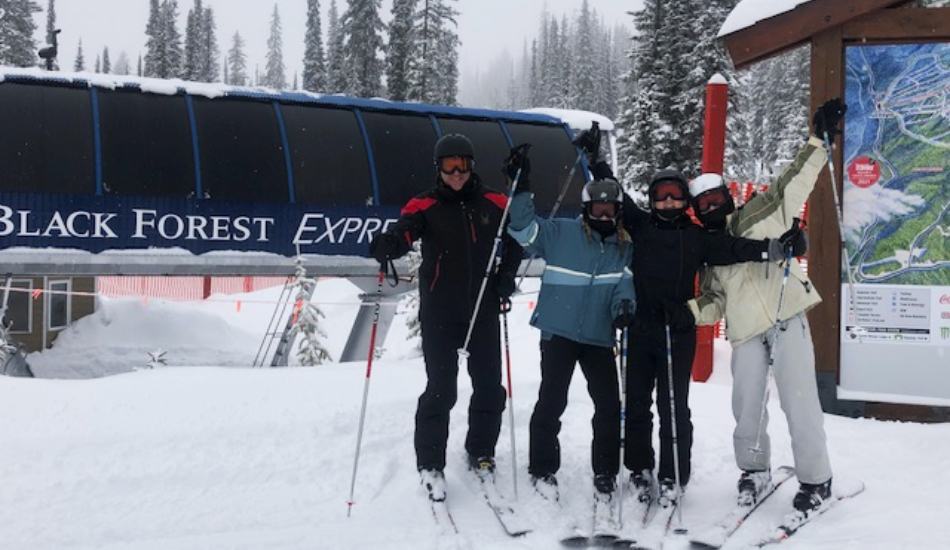 Skiing in British Columbia is a must-do experience
Sherri and her family are from Ontario, where most ski facilities are at small, local resorts and you can make it down a ski run in just a few minutes.
At Big White, there are over 119 runs to choose from, the longest of which is over 7km. That means the entire family will need to have their ski legs in shape.
"We were amazed by the beauty of Big White, awestruck by the mountain and how easy it is to navigate around the different runs and the snow," Sherri says.
"Coming from Toronto, this powder snow is incredible and the new snow overnight was like gliding on air."
The family's favourites were the blue and green runs at Black Forest for uncrowded, cruisy terrain that they could take at their own pace.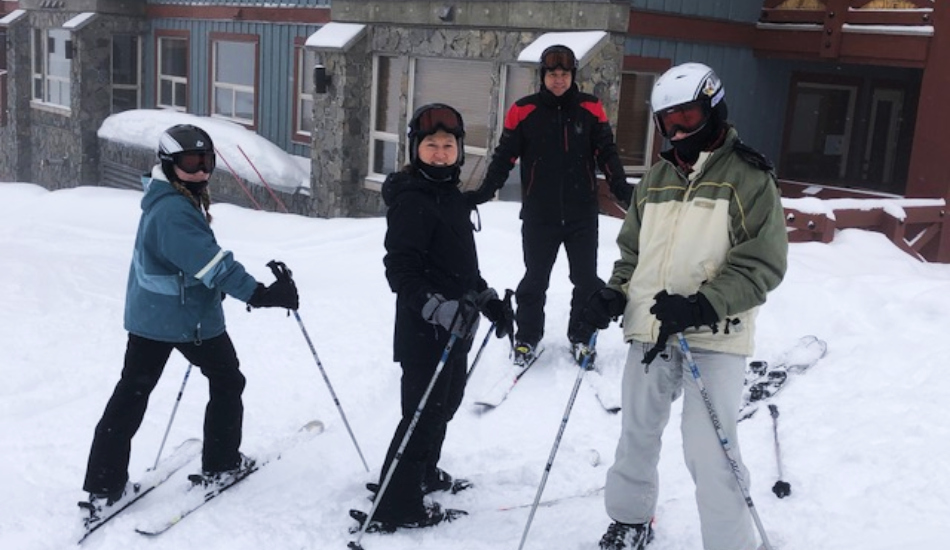 Ski-in, ski-out makes all the difference
Big White has a large ski-in, ski-out village across a range of accommodation, making it the ideal destination for those who like to make it easy for themselves.
There are no buses and cars required, although there is a free village shuttle to make life easier for those who might like to jump on to find a restaurant or an après ski destination.
The family were lucky enough to stay in Stonebridge, well-known as having the best location on the mountain.
"We had no idea how well laid out the village is – everything we needed was just steps from where we stayed at Stonebridge," Sherri says.
"We really looked forward to staying on-site and having that ski-in, ski-out access. It's all the more convenient when traveling with kids."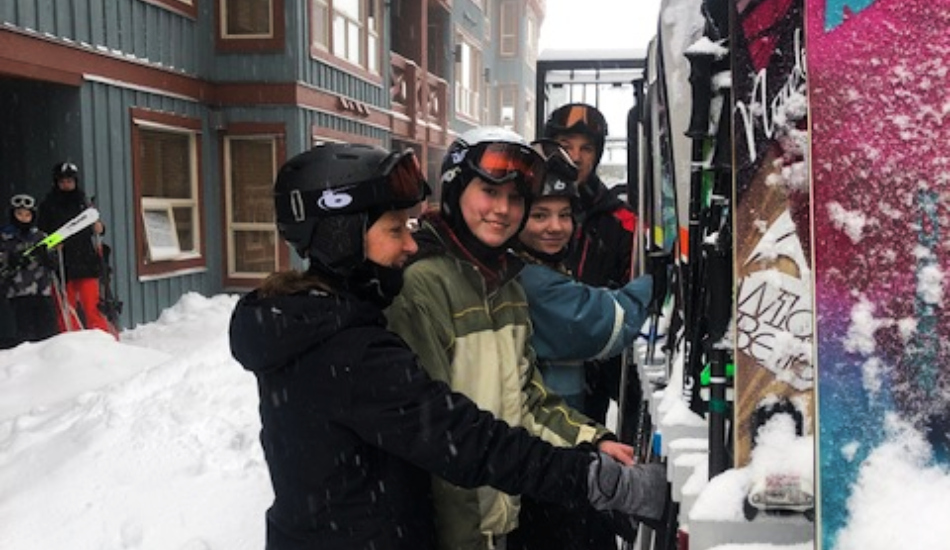 There's plenty to do on and off the slopes
The best part about Big White Ski Resort? The activities.
Beyond the skiing and the snowboarding, there's plenty to do; snowshoeing, ice skating, tubing, horse sleigh rides, snowmobiling, dog sledding and even trips down to Kelowna to see the hockey – a quick local's tip – it's called hockey, not ice hockey!
There are also a range of free events offered, from family games nights to carnivals and mountain favourite, Cruz the Blues, which involves ticking off every blue run on a passport over the course of a weekend.
Sherri and her family enjoyed tubing, along with a bonus sleigh ride organised by the Stonebridge at Big White team.
"That was such a treat, Jim and his horses were beautiful. Silently gliding through the snow laden trees in the Happy Valley Forest with the sleigh bells jingling will stay in my mind forever," Sherri says.
"All in all, we are the luckiest family I know. To win a five-day ski trip, orchestrated so perfectly by Sue and her team at Stonebridge at Big White, and the ski hill itself is captivating at every level. We will be back, and a big thank you to Stonebridge at Big White and Big White Ski Resort."
---
To find out more about booking your very own holiday to Big White, click here.