Experience the Best of Big White
1. It's The Snow
The Big White motto is "It's the Snow". The resort receives over 750cm (26.5 ft) of light, dry, fluffy powder snow annually. Come and ski or ride amongst the world-famous 'snow ghosts' – our frosty, snow-caked trees.
2. Canada's Largest Totally Ski-in, Ski-out Resort Village
Choose luxury at very affordable pricing when you stay at Stonebridge Lodge  — you can ski-in, ski-out right from your lodging whilst still being in the heart of the Big White village. Canada's largest ski-in, ski-out village has something for everyone and especially perfect convenience when staying at Stonebridge Lodge.
3. Your Own Private Hot Tub
Soak in the breathtaking Big White views from your private balcony at Stonebridge Lodge. Immerse yourself and relax in the privacy of your hot tub. Watch the snow fall, blanketing the resort in powder, ready for tomorrow's adventure.
4. Daytime & Après-Ski Family Entertainment
Big White Ski Resort offers family friendly activities and events for all ages. Everything is just steps away from your accommodation. Enjoy live entertainment, go skating, play hockey, try tubing, take a sleigh ride. Live the adventure with snowmobiling or dog sledding, then gather around the bonfire to watch the fireworks.
Some actvities may be suspended due to COVID-19 Resort Protocols.

5. Perfect Winter Weather & Elevation
Daytime temperatures average -5 ºC (23 F), perfect for a wide range of winter activities. With a moderate base elevation of 1,755 metres (5758 ft), the only thing that will take your breath away will be the views.
6. Kelowna International Airport Makes It Easy To Get Here
It is surprisingly easy to get to Big White. Non-stop flights are available from major domestic hubs including, Vancouver, Calgary, Toronto. USA direct flights to Seattle and Las Vegas. Further afield to Mexico – Cancun, Cabo San Lucas, Los Cabos, Puerto Vallarta and Varadero, Cuba. 
Take a regularly scheduled Big White shuttle, and you'll be on the slopes in an hour. 
Commercial airline schedules may vary due to COVID-19 border restrictions.
7. Big & Wide Open Terrain
Unfolding the Big White mountain trail map, you'll discover 119 runs, 5 alpine bowls, and the 'TELUS Park' terrain park. Look for the Happy Valley Adventure Playground — the Mega Snow Coaster tubing park, a skating rink, snowmobile trails, and more. Experience all 1,119 ha (2,765 acres) of terrain geared for all levels of skiers and boarders. 
For the diehards, enjoy Western Canada's largest night skiing terrain at Big White Ski Resort. There is 15.3 ha (38 acres) available under lights. 
Big White Ski Resort, offers 25 km (16 miles) of incredible combined Nordic and Wilderness trails. Accessible from Happy Valley, these trails are perfect for cross country skiing and snowshoeing. Take Lara's Gondola from the Village Centre, to access the 25 km (16 miles)  marked trails. Head to the 14 km (8.5 miles) of scenic trails that are groomed daily for both skate and classic technique.
Some actvities may be suspended due to COVID-19 Resort Protocols

8. Taste More Than The Champagne Powder
Big White has 20 on-mountain restaurants, cafes, delis, pubs and nightclubs. There's no shortage of places to relax or replenish your energy level when it is time for a break. 
Enjoy a luxurious lunch at the Black Forest Day Lodge. Soak up the sunshine outside at The Woods. Sit on the patio at Sessions, for a social drink to warm your soul. Make a 'dinner date' and treat yourself to a wonderful meal at the Kettle Valley Steakhouse. 
Feel like a day off the mountain? Enjoy the BC Okanagan Valley's offerings, and savor some famous local wines. 
9. Award-Winning Grooming, Kids Centre & Ski & Board School
It is a parent's vacation too! Cruise down the immaculately groomed runs, satisfied knowing that your children are being introduced to the exciting world of mountain fun at the Kids Centre. Take a lesson from our top-notch Ski and Board School certified pros so your kids don't leave you behind!
Some Ski & Board School lesson programs are suspended due to COVID-19 Resort Protocols
10. Fast, Convenient, Modern Lifts Mean No Waiting in Lines
At Big White, we believe that 'time is your ultimate luxury, so use it well'. You'll never wait more than a few minutes – even at the busiest times. The resort is serviced by 16 lifts. The uphill capacity is 28,700 skiers and riders per hour.
Page courtesy of Big White Ski Resort.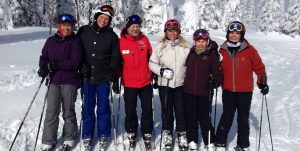 Love the apartment, love the snow, love Big White! Hope to come back again very soon….
We are so excited to be staying here at Stonebridge. What a beautiful place. We especially enjoyed the hot tub and the location overlooking the village home run. The warm decor, fireplace and extra touches makes for a very comfortable place after a full day of powder. Thank you!
Had a great family holiday – great skiing, mountains, views and fabulous runs off the Cliff Chairlift during the day, and wonderful soaks in the hot tub and great B.C wines in the evening.
We had a absolutely fabulous time at Big White. Your accommodation was absolutely amazing. Everything we had hoped for and more. We used Vacation Foods delivery service which was extremely handy, had a lovely Xmas Dinner at the Gunbarrel Inn, girls went dog sledding which they are telling everyone was the highlight of their holiday, and the snow was fantastic so we did a lot of skiing. The only thing we could ask for would be another weeks holiday – 6 days was not long enough.
Our family are in love with Big White and have been skiing here for quite a few years now, and always make Stonebridge Lodge our home for our stay.

Over the years, we've stayed in Building 2 and 3, and just love the ski-in, ski-out access.  The condos are well appointed, and we always book a condo with a hot tub on the deck. There is no better way to finish a big day on the 'hill' as the locals call this massive mountain.  We will be back again next year all things going to plan.
It takes us 20 hours to get here, but once again Big White has not disappointed. This is our fifth visit, and second stay at Stonebridge. We hope to come back next year – that's how good it is. Thanks for a great stay.