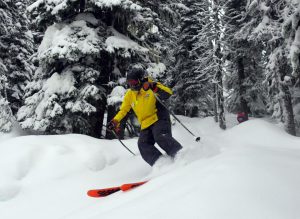 This is a great service, and everyone should sign up for the free mountain snow host tour when you arrive at Big White Ski Resort. Having a trail map is one thing, but having your own mountain guide is really the best.
Each and every morning join the resort's Snow Hosts for a complimentary 90-minute mountain tour. Most of these great folk are local volunteers, and have skied this mountain for years. They know this ski hill, and boy they can ski! It is the best and fastest way to get orientated and learn the delights of Big White.
And best of all, it's free!
For Alpine Skiing and Boarding, the Snow Hosts meet daily in the village at 10:30 am.
Look for the Snow Hosts in their bright yellow ski jackets, and their welcoming smile. This is truly a great way to spend your first day at Big White.
Stonebridge at Big White
FAQ's