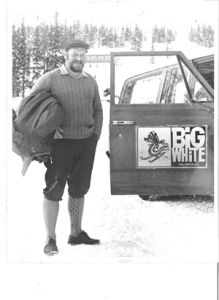 December 7th, 2013: Fifty years ago, Cliff Serwa and Doug Mervyn opened a mountain called Big White.
In 1965 the skiers discovered the first snow ghosts — now considered Big White icons. In 1968 the ski area's first on-mountain accommodation was constructed.
1970's
The 1970's saw a huge amount of development at Big White with the construction of four chairlifts:
1971: Ridge double chair was installed.
1975: Alpine Centre was constructed.
1976: Easter Triple Chair was installed
1979: Powder Triple Chair was installed.

1980's
The 1980's brought continued expansion:
1985: Schumann Family purchased Big White Ski Resort Ltd. The goal was to build a world-class ski resort focusing on customer convenience and service, while increasing capacity, and offering new skiing terrain.
1986: First quad chairlift in BC installed: The Plaza.
1987: Moved and lengthened the Alpine T-Bar.
1987: First Snowboard-only event held – The Inland Snowboard, and the 1st Annual Banked Slalom.
1988: Cliff Platter installed to service this double black diamond area.
1989: First high-speed detachable quad lift installed: the Ridge Rocket.
1990-1992
More additions to the lift system, expanded terrain, and improvements throughout the village took Big White into the 'World Class Ski Resort' title.
1990: Second high-speed detachable quad lift installed: The Bullet.
1990: Ridge Day Lodge was constructed, increasing food services facilities.
1990: Snowpine Estates subdivision started.
1992: Falcon Double Chair added in the Whitefoot Bowl, opening acres of powder bowl, glade and tree skiing

1994-1995
Big White Ski Resort invested more than $5 million in improvements to continue its growth.
Third high-speed quad, the Black Forest chairlift was constructed, opening up 150 acres of new intermediate terrain.
The White Crystal Inn opened; a European style hotel offering deluxe" accommodation and dining.
1996-1997
During this time, more than $75 million was invested in development at Big White Ski Resort, including: The Village Centre Mall, Ski School Desk, Ticket Office, Ski Rental, Ski Dazzle, Central Reservations, The Big White Kid's Centre, Gem Lake Express Quad chairlift: the longest quad chair vertical quad rise in Canada.
1,200 acres of new terrain in the Westridge areas increases total skiable terrain to 2,075 acres.
From 1997- 2006 Focus continued on better grooming, slope management, and massive expansion in accommodation developments.
2006
The Snow Ghost Express, a state-of-the-art six-passenger chairlift, was installed.
Named after the legendary snow covered trees that decorate the mountain, this is currently the longest six passenger lift in Canada, carrying skiers 6,190 feet in under six minutes.
2015
Black Forest Day Lodge constructed and we said farewell to Cyril's Perogy's Van
2018
Replacement of 3 seater Powder Chair with fixed grip quad chairlift, and upgrade of skier's tunnel.