Big White: The perfect destination for top family ski vacations in Canada
When you want family fun then Big White Ski Resort is the place to be. Consistently named best family ski resort in Canada by the industry's biggest names, your family will come away with memories that last not just a lifetime but generations.
There's nothing better than bonding with loved ones through snow play and skiing. Big White Ski Resort is a family owned mountain that is all about family, so they get the challenges of family travel and do all they can to make your ski vacation a smooth one.
As long time Big White Ski Resort residents, we know how to create the perfect Canada ski vacation for your family from ski school to dinner time, down time, fun time and more.
Because happy kids equals happy holidays.
Family Ski Holidays in Canada
If you're looking for the best Canada ski vacation for your family, then we've got you covered at Stonebridge at Big White.
Have we mentioned our Big White connections? We know the locals, because we are the locals so we can organise unique experiences for bragging rights. First tracks with a snow pro? Snowshoe picnic on the Kettle Valley rail trail? Wine tour? Cooking class? Snowmobiling with the kids? A dogsled ride through the forest?
We are passionate about this region of Canada, centred around beautiful Lake Okanagan and we can guarantee you a family ski holiday that keeps everyone happy.
Why your family should choose Big White Ski Resort in Canada
The biggest ski-in, ski-out resort village in Canada, ski school instructors will actually come to your Big White accommodation to collect your child for their ski school day. It doesn't get better than that, right?
Just one of a mountain of reasons Big White Ski Resort is consistently named best ski resort in Canada for families.
Add ease of access (only an hour from Kelowna International Airport), a true ski in ski out pedestrian only village and 7 metres of snowfall each season of British Columbia's famed light and dry hero snow. Your family will gain confidence and control on well-marked runs devoid of ice and rocks.
When the chairlifts stop your family will love the ice rink for skating, ice water falls for guided climbing, dog sledding through the woods and more.
Kids can play outside in the snow while the adults look on from restaurant decks and with ski-in, ski-out accommodation it's easy to pop back home for a mid-morning snack.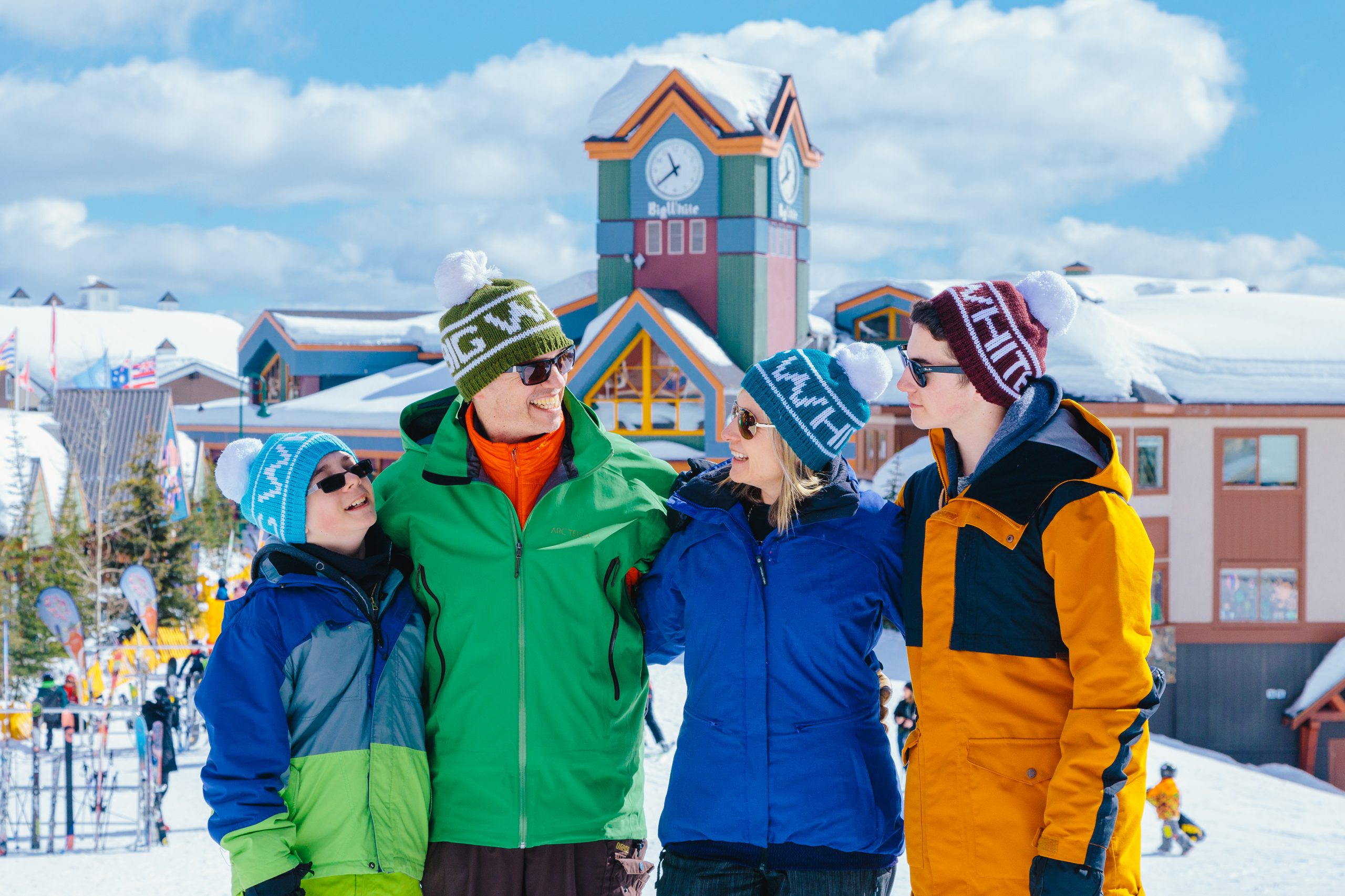 The best places for families to stay at Big White Ski Resort
We know Big White because we ski it and have done with our own family since they were toddlers.
Ski in ski out
Our favourite places to stay as a family are Stonebridge Lodge and Sundance Resort, both offer ski-in, ski-out condominiums for self-catering in the heart of the village.
You're skipping distance to ski school and the Village Centre as well as the free gondola to "the valley of happiness" aka Adventure Playground.
Adults will love the fine dining restaurant at Stonebridge Lodge right on the home run into the village.
Stonebridge Lodge also offer private hot tubs on your balcony. A huge hit with kids and parents alike at the end of the day on the slopes.

Stroll to the village
The entire family will love the waterslide, outdoor pool and hot tubs at Sundance Resort. Add a kids room, move theatre with complimentary popcorn and your kids will never want to leave.
There's a free courtesy shuttle to the village or a 10 minute walk (with some uphill) on the way home.
Live the high life
For the uber-luxe family ski holiday, Ski Crescendo is the A-listers lodging for family ski vacations at Big White Ski Resort. With a private indoor pool and spa, outdoor hot tub, games room, media centre, Ski Crescendo sleeps up to 20 comfortably.
Insider tips
Order your groceries online at Vacation Foods before you arrive on the mountain. They'll deliver your goods and have them unpacked on the day you arrive. We can also organise in-house chefs, cooked meals, and recommend our favourite family friendly restaurants, gastro-pubs and cafes.
What Big White Ski Resort has to offer to family ski vacations
Our Stonebridge at Big White team can organise every element of your dream family ski holiday. We'll book the kids into ski lessons, organise your child care and babysitting, book adventures and activities and create the best family ski holiday ever.
Big White is internationally acclaimed as "Canada's Favourite Family Resort" for good reason as it offers a family learn to ski experience so you can all learn together. The Mom/Dad and Me lessons means kids can gain confidence with a parent by their side. The Adopt an Instructor offer is our favourite as you get a dedicated instructor for multiple days and they'll collect your kids from your accommodation and drop them back at the end of the day.
If your family are already confident skiers and boarders then you'll be happy to know that the resort terrain and chairlifts ensure that there is always a green, blue and black run available from the top of each chair. So each family member can choose their own way back down.
For refuelling during the day, or après after skiing, the restaurants, gastro-pubs and cafes are only steps from your condo, or accessible by a free gondola ride. Expect kids meals, play areas and activities to keep the kids busy, and babysitting services if you would like a night off.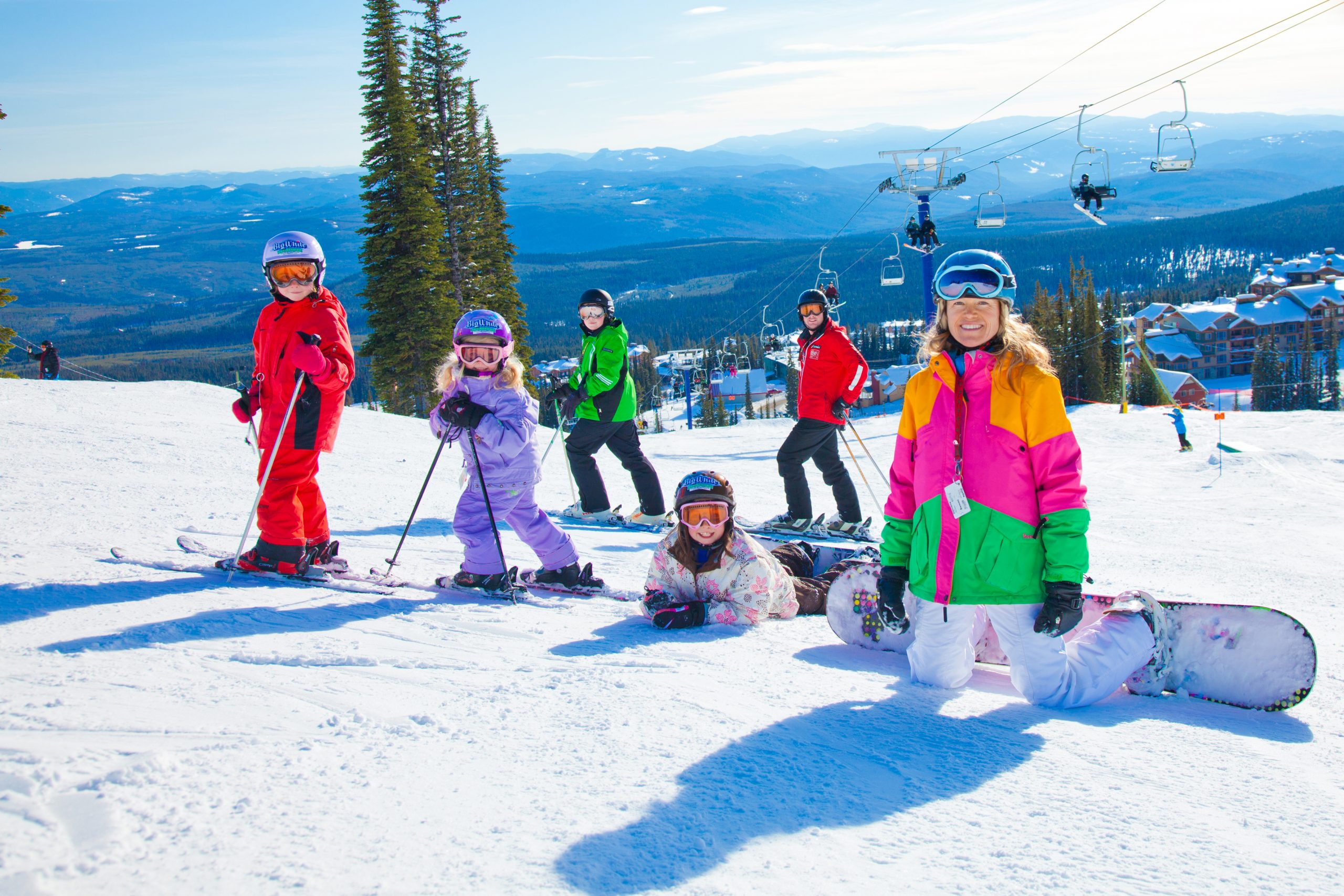 The Happy Valley Adventure Playground is a winter wonderland for families with young children and teenagers alike. We call it the valley of happiness – with action packed activities for the young and young and heart – from tubing, sleigh rides, ice skating, join in with a local hockey game, or toasted marshmallows by the firepit.
One of our all-time family friendly and favourite winter experiences is to take in a hockey game downtown in Kelowna. Watch the thrills and spills on the ice rink as the Western Hockey league home town team, the Kelowna Rockets, fight it out. We can organise transport, tickets and even a pre-game dinner or wine tour.
Not to mention, Big White also hosts a huge range of free activities throughout the week for families to enjoy. There is always something to do at Big White!
You're in good hands as the team of experts from Stonebridge at Big White can design and advise on all the must-do activities on and off snow. After this vacation, you'll never want to go anywhere else!
How to get the best family ski deals for Big White Ski Resort
Full service or independent booking, it's up to you. We know each family travels differently so we offer a full concierge style travel advisory where we hold your hand through the planning process and we also offer a simple quote and book shopping cart so you can plan your own trip.
We have the best family ski deals covered — airport shuttles, grocery deliveries, accommodation recommendations, advisory services for ski instruction, assistance with pre-ordering ski equipment and best value lift pass options.
The choice is yours, and we are happy to help as much or as little as you like.