Many ski resorts claim ski-in, ski-out, including Big White, but what does this really mean?
Yes, many resorts or individual accommodations claim ski-in, ski-out but few actually deliver. Here's the truth about Big White Ski Resort and our recommended lodging — Stonebridge Lodge.
For Stonebridge Lodge guests, you can literally ski from each of the three buildings. The entire mountain is at your feet.
There is the 'home run' in front of Stonebridge, the main access everyone uses, to come into the Central Village. On the other side of Stonebridge, your high speed quad chairlift, The Bullet Express, awaits.
If you choose to ski or board through the village centre, that's easy too! Head to the Clocktower, and downhill via the Hummingbird run and take your choice of three chairs – Plaza, Snow Ghost Express and Ridge Rocket Express. You can drop the kids off to Ski School, on your way through the village!
Your secure ski locker is at ground level. Simply click into your bindings and you're on your way for the day. If you need to drop back into your condo, you can safely leave your gear at the entry to each of the three buildings within Stonebridge for your total convenience.
Stonebridge is an almost flat walk into the village for our younger and less mobile guests and non-skiers. It's these little things that make a good holiday, great.
A recent Stonebridge guest commented, "Now we really understand what ski-in, ski-out means. Stonebridge Lodge ticked the box for us, with our young family". It's no wonder we enjoy so many returning guests.

Many of our other recommended lodgings are ski-in, ski-out. Because we live and ski at Big White Ski Resort, rest assured our local knowledge on location and access is accurate and honest. You can rely on our expertise.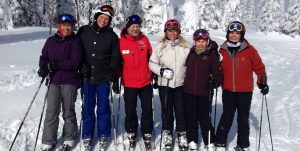 My visit was a spur of the moment decision to fly from Sydney, Australia, to surprise my son, his wife and my grandson who had flown into Big White from Singapore for two weeks.

I was quick to get over jetlag and loved spending time with the family – especially exploring the Happy Valley Adventure playground – sleigh rides with my grandson, popcorn treats by the bonfire, and watching him manage (very well) to walk in snow shoes.

I joined in skiing on Ladies Day and Masters Monday group lessons and loved my time here in this truly winter wonderland with my family. Stonebridge was the ideal location with my grandson – easy to walk into the village, ski home to check on him with his babysitter (provided through the resort).  We loved being able to cook up fabulous meals in the well-appointed executive style Stonebridge Lodge condominium kitchen, then relax by the fireplace to read, or just watch the snow falling gently outside our window overlooking the Easy Street ski run. Life is great at Stonebridge and Big White.
What a wonderful time our family had at Big White. Lots of snow. This was our first white Christmas and we skiied, skated, tubed, mini ski dooed and a sleigh ride through the trees.
Our second stay in 2303 has been fantastic again! Weather has been superb, lots of fresh snow and sunshine. Loving the 6 Degrees Bistro downstairs, great local cuisine and wine. Internet access is appreciatedd. Looking forward to getting back here again soon.
We are so excited to be staying here at Stonebridge. What a beautiful place. We especially enjoyed the hot tub and the location overlooking the village home run. The warm decor, fireplace and extra touches makes for a very comfortable place after a full day of powder. Thank you!
Thanks for sharing your beautiful accommodations. Once again we had a great vacation in the snow.
Stonebridge 2404 follows the rule "stay in a vacation home that is as nice or nicer that your home, then you will have a true holiday". This condo has everything — a gourmet kitchen, lovely fireplace, hot tub, comfortable beds, but it is the views that make it outstanding. I loved stopping for lunch and seeing the little ski kids coming down the "bumpy run" through the trees, from our window. Watching the sun come up and dissipate the morning mist, just wonderful – thanks for sharing.
Thank you – we had a fantastic time, great apartment, beautiful resort and mountains! We will be back.
We had a wonderful time. Your place is outstanding. We enjoyed the bright blue skies and the skiing was fun. From the hot tub to the loft to watching skiers go by, we couldn't have asked for anything more.
What a fantastic vacation – snow, hot tubs, skiing, dog sledding, NYE fireworks right outside our window and beautiful views everywhere you look from SB2404. Big White really is a great family vacation destination. The condo is so comfortable and so well equipped. We loved every minute of our stay.
Wow what a beautiful place. We all had a great time and will cherish our memories from here forever!!