On-Snow Activities
COVID Update:Many activities have been suspended for the 2020-2021 season. Learn more about the resorts COVID-19 protocols that have been implemented.
No time to waste! At Big White Ski Resort, there is a huge array of on snow activities.
Most are accessed from Big White's Adventure Park, situated in Happy Valley, at the bottom of Lara's Gondola. The Park is well illuminated for night activities after a day on the slopes.
Kelowna is renowned for its Ice Hockey team, The Kelowna Rockets. During the WHL season the resort regularly organises bus trips to see The Rockets play home games and this is an experience not to miss.
Snowmobiling in the Kelowna area is a great experience with fantastic trail systems sporting consistently deep snow, amazing alpine vistas and meadows for your sledding enjoyment. 
The Two John Lake route takes you up to Big White Ski resort. You can start at Idabel Lake and ride to the top of Little White Mountain for some fantastic views of the Okanagan Valley and beyond.
Learn more about Kelowna snowmobiling/sledding.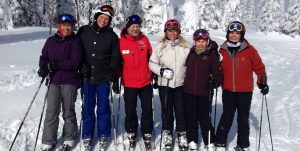 Thanks for sharing your beautiful accommodations. Once again we had a great vacation in the snow.
Stonebridge 2404 follows the rule "stay in a vacation home that is as nice or nicer that your home, then you will have a true holiday". This condo has everything — a gourmet kitchen, lovely fireplace, hot tub, comfortable beds, but it is the views that make it outstanding. I loved stopping for lunch and seeing the little ski kids coming down the "bumpy run" through the trees, from our window. Watching the sun come up and dissipate the morning mist, just wonderful – thanks for sharing.
Had a great family holiday – great skiing, mountains, views and fabulous runs off the Cliff Chairlift during the day, and wonderful soaks in the hot tub and great B.C wines in the evening.
Thank you – we had a fantastic time, great apartment, beautiful resort and mountains! We will be back.
We had a wonderful time. Stonebridge is outstanding. We enjoyed the bright blue skies and the skiing was fun. From the hot tub to the loft to watching skiers go by, we couldn't have asked for anything more.
We had a absolutely fabulous time at Big White. Your accommodation was absolutely amazing. Everything we had hoped for and more. We used Vacation Foods delivery service which was extremely handy, had a lovely Xmas Dinner at the Gunbarrel Inn, girls went dog sledding which they are telling everyone was the highlight of their holiday, and the snow was fantastic so we did a lot of skiing. The only thing we could ask for would be another weeks holiday – 6 days was not long enough.
Big White brilliant as always. This must be our seventh visit in ten years. Nuff said!!
What a wonderful holiday! We had all you could ask for and more – Stonebridge is magnificent. Best spot on the mountain. Best views and amazing skiing, crazy snow! Thank you for having us – it was our first trip to Big White but won't be our last! Many, many thanks.
Thank you for sharing this wonderful vacation home with us. Your choice of decorations make this a warm experience, and we wouldn't change a thing. Thank you, thank you!