Stonegate Resort
On-snow Luxury Condominiums for Families
Stonegate Resort Big White
Big White Ski Resort Accommodation
Stonegate Resort is the 'sister' property to Stonebridge Lodge. Built by the same developer as Stonebridge Lodge, Stonegate Resort offers similar on-snow luxury condominiums — perfect for families, very well located, opposite the Village Centre and landmark Clocktower, accessed via the skier's tunnel. Stonegate Resort is just a short 3-minute walk up to the village centre mall and services, as well as the Kids Centre Ski School, supermarket and more. Importantly, Stonegate enjoys enviable true ski-in, ski-out access to the chairlifts, and Happy Valley Adventure Park.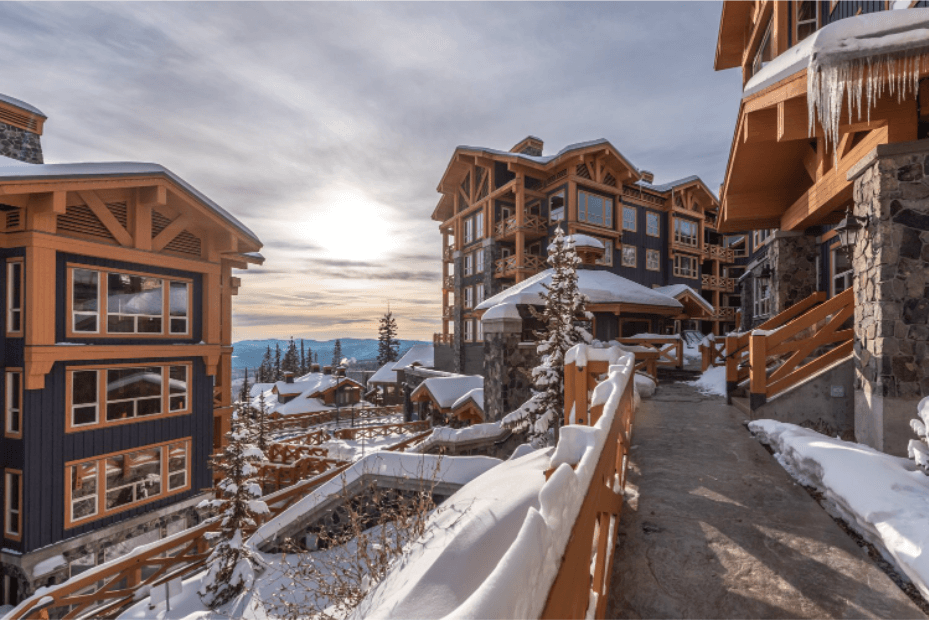 Stonegate Resort enjoys a well-deserved reputation for super family-friendly lodging. If the kids still have energy to burn after a day on the slopes, point them to the great array of on-site recreation facilities, including a theatre, games room, indoor whirlpools and heated outdoor whirlpools. This is a kids playground, any day of the week, and just another reason why our guests love the family-friendly, Big White Ski Resort.
Luxury Amenities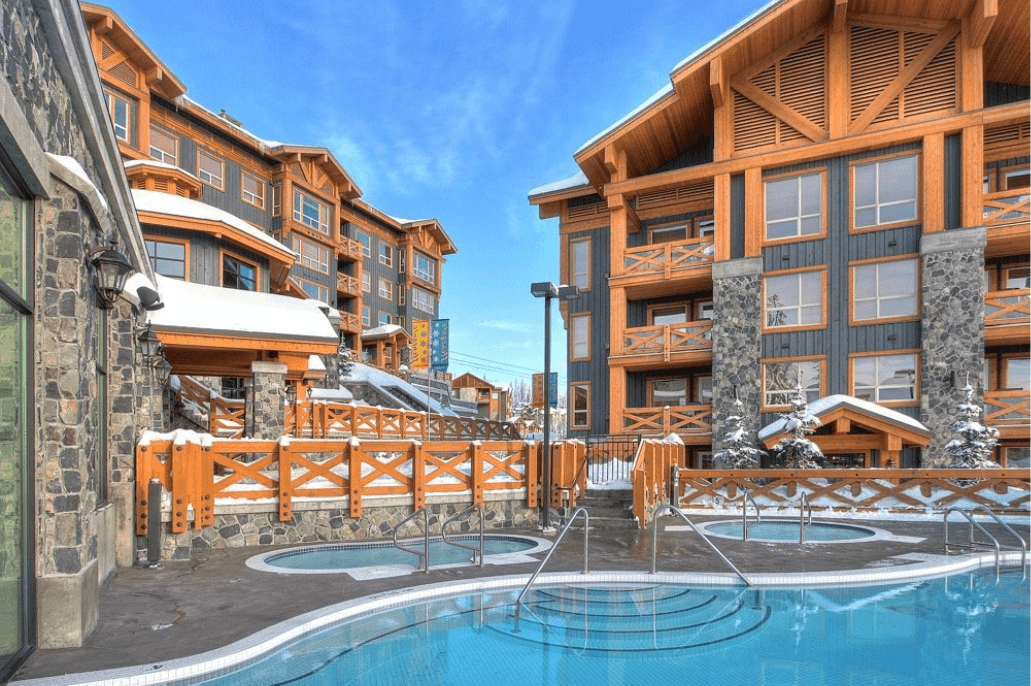 Three separate buildings make up Stonegate Resort overlooking the pool and Guest Amenities Centre. Choose from 96 luxury condos, all with executive finishes and most with a private hot tub. Situated alongside Hummingbird Run, you are guaranteed ski-in, ski-out access to three chairlifts. Ski or stroll down the lit walking path to Happy Valley Adventure Park. It's all within easy reach. We know that location is everything, particularly with children.
Accommodation to suit everyone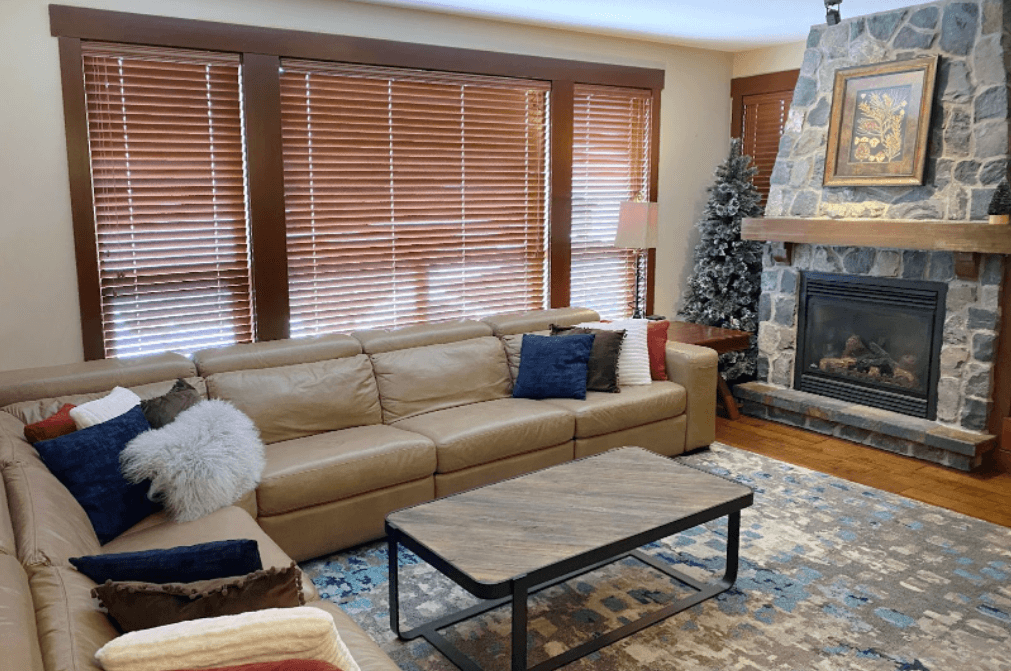 Stonegate Resort offers 1,2,3 and 4 bedroom residences. The condos have been designed with both luxury and enjoyment in mind, and are our first choice for larger family groups. Boasting truly panoramic views of the Monashee mountains; private hot tubs; family-friendly recreational facilities; as well as excellent access for skiers and non-skiers alike.
Comfortable and contemporary interiors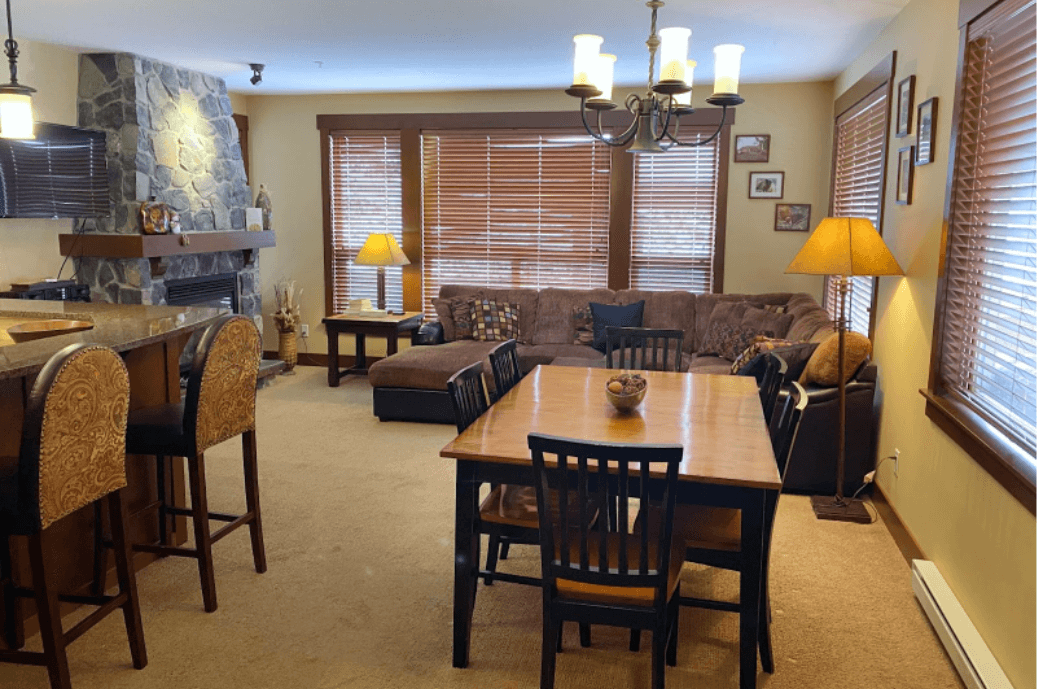 You can expect contemporary decor, comfort and peace of mind in your own snow home for your ski vacation. After a day on the slopes, the kids can hit the games room, whilst mum and dad relax in the hot tub, and take in the views, and the Saturday night fireworks. Gourmet kitchens provide the perfect vacation home, away from home, whether you want to cook or not. The condos offer secure WiFi Internet access, digital satellite TV, flat screen TV's and an individual in-suite laundry.
Health and wellness facilities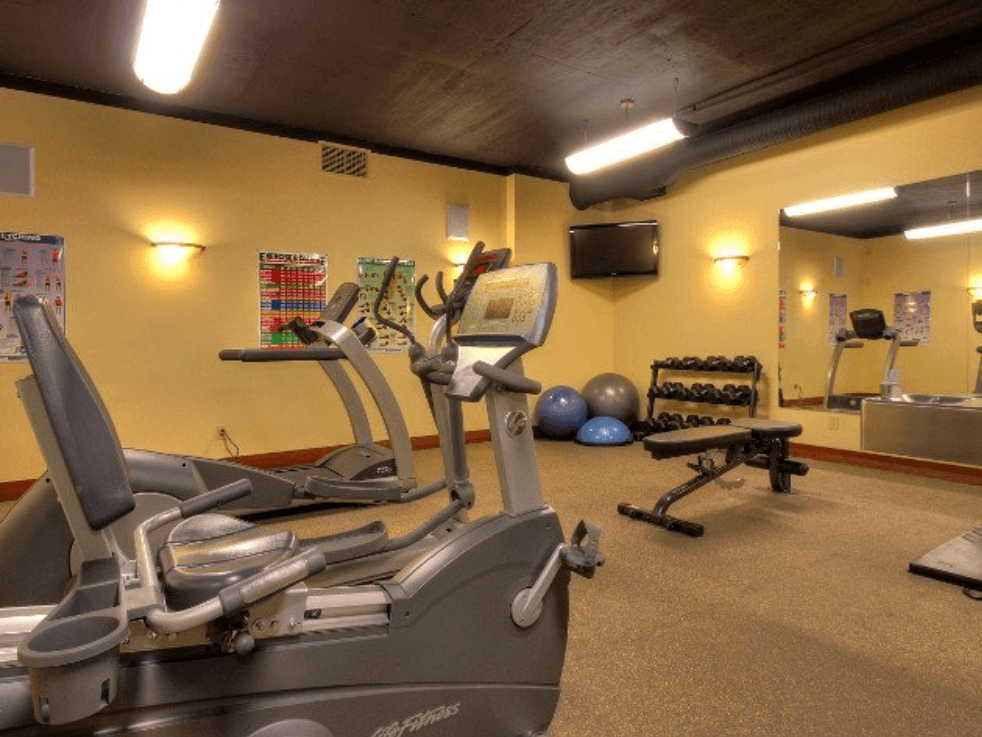 At the start of your day, stretch in the fitness centre, or do your workout. Complete your ski day with a soak in the heated indoor/outdoor pool or one of the whirlpools.
Kids are well taken care of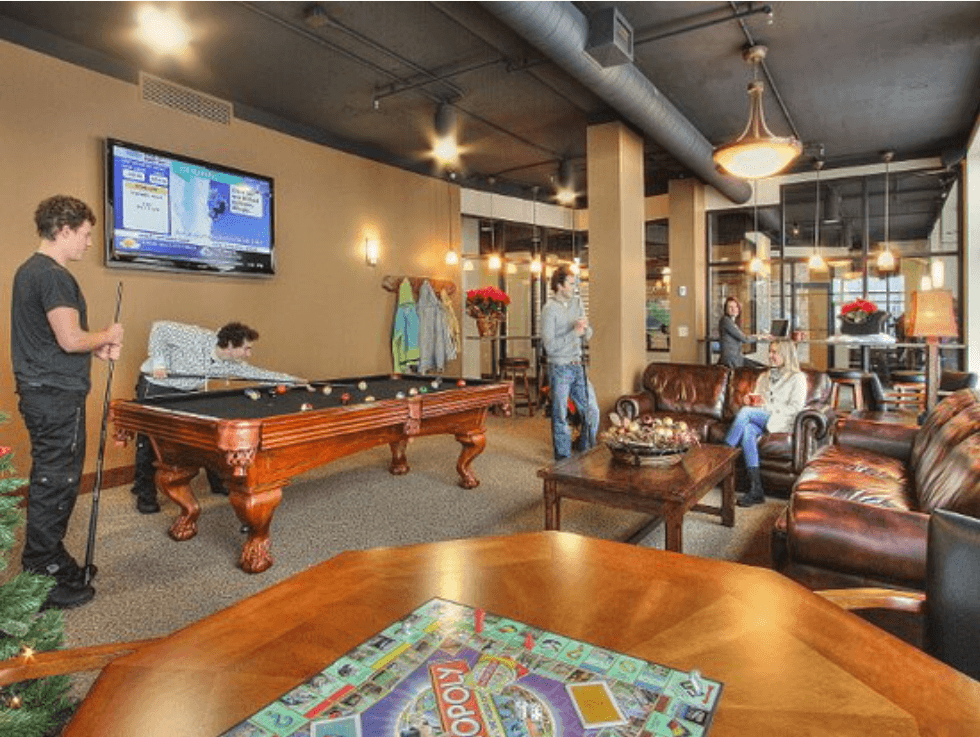 Take on the kids in a game of billiards in the lounge, or settle in to watch your hockey team on the 65" big screen. The kids will be in snow heaven, in the games room with foosball and Wii Sports. Cook up some popcorn and have a family movie night, in the 18-seat Stonegate theatre. The choice is yours!
Stonegate Strata by-laws currently allow for up to 11 guests determined by the number of bedrooms, and configuration. As each condo is individually owned, the decor, finishes, and bedding configuration and maximum occupancy will vary. We have details on each and every condo to ensure the perfect match for your family or group.
For guests driving to Big White, Stonegate guests can access free underground heated car parking. There is elevator access to all four floors in each building.
Are you interested in booking a trip to Stonegate Resort? Our travel agency, Stonebridge at Big White can help! Let our team of experts deliver you a vacation you won't forget. Book Now or contact us for more information.
Frequently Asked Questions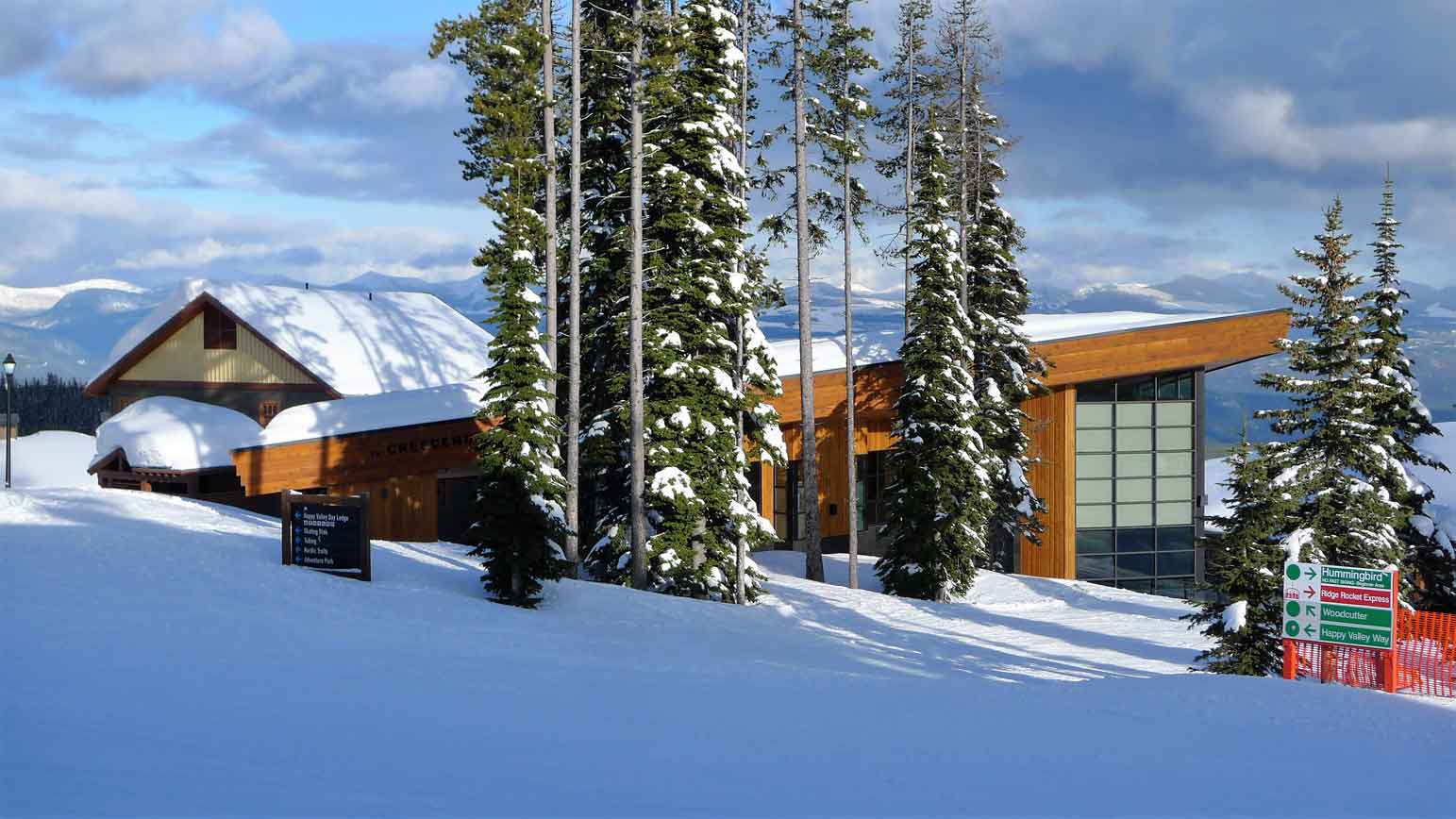 We had a wonderful time. Your place is outstanding. We enjoyed the bright blue skies and the skiing was fun. From the hot tub to the loft to watching skiers go by, we couldn't have asked for anything more.
We had a wonderful time. Stonebridge is outstanding. We enjoyed the bright blue skies and the skiing was fun. From the hot tub to the loft to watching skiers go by, we couldn't have asked for anything more.
We had a absolutely fabulous time at Big White. Your accommodation was absolutely amazing. Everything we had hoped for and more. We used Vacation Foods delivery service which was extremely handy, had a lovely Xmas Dinner at the Gunbarrel Inn, girls went dog sledding which they are telling everyone was the highlight of their holiday, and the snow was fantastic so we did a lot of skiing. The only thing we could ask for would be another weeks holiday – 6 days was not long enough.
Big White brilliant as always. This must be our seventh visit in ten years. Nuff said!!
What a fantastic vacation – snow, hot tubs, skiing, dog sledding, NYE fireworks right outside our window and beautiful views everywhere you look from SB2404. Big White really is a great family vacation destination. The condo is so comfortable and so well equipped. We loved every minute of our stay.
Wow! What an amazing holiday we've had at Big White.

My husband came for a 'warm up' few days before heading off to heli-skiing and I stayed on and participated in the 5 Day Ski School Master's Program. A huge thank you to my sensational ski pro Elaine Gordon who took me under her snow angel wings and progressed me to double black diamonds by the end of the holiday. Not only did she encourage me from the beginning, she gave me confidence and belief in my ability, whilst having loads of fun each day on the snow. 

Coupled with the extraordinary snow conditions we enjoyed, I am one happy skier.  Saving the best for last, our Stonebridge 2 bedroom and loft condo on the top floor was the most perfect home away from home. Every little detail had been thought of, even down to the Vegemite!  With incredible views into the village; a hot tub on the balcony which was definitely in great demand each afternoon; and a glass or two of local Okanagan wine; our experience at Stonebridge at Big White was everything and more. A huge thank you to our host Sue Thorley, aptly known as the "Mayor of Big White"! She hosted us, skied with us, and shared many many laughs and great times together.  Thank you. We will be back next year! 
Wow what a beautiful place. We all had a great time and will cherish our memories from here forever!!