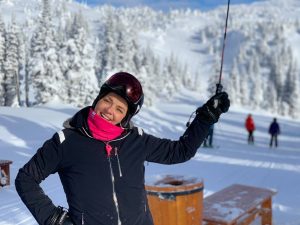 Our Australian founder, Sue Thorley, first skied Big White in 2002. Fast forward to today, Sue leads her expert team of snow travel advisors from Stonebridge at Big White, booking Big White ski vacations for clients from around the globe.
Sue calls Big White her Canadian winter home – if you need anything or anyone in Big White and beyond then ask "Lady Mayoress"! Think of her as your personal ski concierge and ski guru. Sue is definitely your go to gal for all things Big White, before and during your vacation.
Sue has built a network of local partners in Big White, Kelowna and the Okanagan Valley, which the team at Stonebridge at Big White access for every aspect of your snow holiday.
"We are totally dedicated to helping clients considering Big White Ski Resort for your next vacation destination. You have the option to book directly online or contacting us, and we will do it all for you," she says.
Sue loves sharing her mountain knowledge with guests, and always happy to What's App, Facetime or Skype clients to chat about skiing at Big White Ski Resort.
"We live and love skiing, and the alpine lifestyle. Our expertise and 'concierge style' service sets us apart. For us, it's about empowering you with honest, first-hand knowledge so you can make an informed ski travel decision."
Contact the team for your Canada ski and snowboard vacation.