We have some amazing news – Canada is opening! This is huge for everyone keen on their next ski vacation in the country.
Of course, dealing with the COVID pandemic has had a huge impact on the key decision points for clients when booking ski holidays. Safety considerations are always the top priority for everyone, followed by flexibility in planning ski vacations.
Together with our resort partners, we do our utmost to keep you informed and updated with the latest COVID health and travel advice. To read more on travelling Canada in COVID times, keep reading below.
When will the Canadian borders open?
The Canadian border is set to reopen on the 7th of September to international travellers who are fully vaccinated. This is great news for keen travellers who have missed all that the gorgeous country has to offer!
This means you will have plenty of time to spare before Big White Ski Resort opens for its winter season on November 25th.
There are requirements for travel exemption. This includes:
Full vaccination with a vaccine approved in Canada (see here for the list) at a minimum of 14-days prior to entering Canada
No COVID-19 symptoms or signs
Taken a valid pre-arrival COVID-19 molecular test (no more than 72 hours before the flight or arrival at border)
Uploaded proof of vaccination in ArriveCAN
Meet all requirements of the pre-entry test and the Immigration and Refugee Protection Act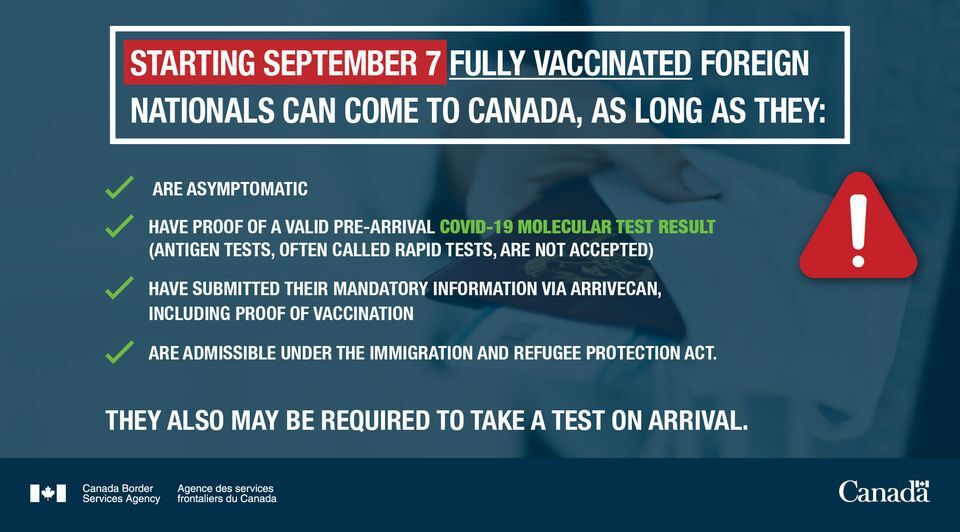 Can I travel to Canada?
Your ability to travel to Canada will be determined by a few factors.
Before you even start planning, you will need to be fully vaccinated with a vaccine authorized by the Government of Canada. All travellers five years or older will also need to have authorised proof of their vaccination status and be prepared to show this when requested.
After this, you will need to visit the ArriveCAN website or app. Here you will need to ensure you are eligible for discretionary travel (assuming you are vaccinated). You will need to upload your vaccine proof here.
You also need to meet the pre-entry testing requirements and be asymptomatic when you enter the country. This portal will advise you of any other requirements you need to meet before entering the country. This is mandatory for all individuals travelling to Canada.
On top of the federal requirements, it is also advised you also check the provincial or territorial restrictions of your destination for any further requirements needed.
Additionally, we advise you to also see whether your country's borders are open, if you have international flights available and if any travel restrictions may stop you from leaving or returning home.
As of September 2021, American citizens and permanent residents residing in the USA are allowed to enter Canada.
Are there flights available from Australia?
For our keen Aussie travellers, good news! One of the nations leading airlines, Qantas, has announced their international flight schedule will resume by the end of the year!
While only a set group of international flights have been set, this is game-changing for those wanting to break the international travel drought. The schedule is expected to begin the week of Monday, December 20, 2021, meaning international travel can be expected to take off this year from selected Australian cities, including Sydney, Melbourne, Brisbane and Perth.
Qantas has announced major flight routes will resume for the first time in over a year, including:
Los Angeles
Vancouver
Honolulu
San Francisco
Singapore
London
Hong Kong
Tokyo
This is fantastic as Vancouver is a gateway to Canada, offering short connecting flights to Kelowna International Airport, providing you with access to Big White Ski Resort. Plus, if this plan sticks to schedule, you can get in before the end of the snow season!
While opening Australia's international borders is subject to the Australian Government, Qantas has high hopes. They have proposed this flight schedule to the government, which has approved their plans as reasonable, making this exciting news! You can read more on Qantas' plan to resume international travel here.
Please note, this can be subject to change.
How can I find out more about travelling to COVID during the pandemic?
During these unprecedented times, we know how confusing travel information can be. To help you understand, we have made a convenient hub for all COVID-19 information and resources here.
On this page, you will find access to important COVID related travel advice, including Canada's restrictions, how you can enter Canada and the entry checklist. The ArriveCAN app is also linked on the page, as is the application for the eTA Visa.
There is also information and travel advice from relevant local authorities and governments for those travelling from Australia, the UK and other countries.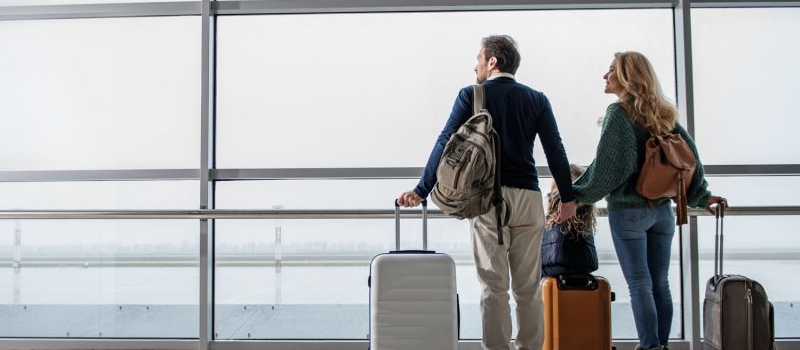 ---
Are you eligible and interested in travelling to Big White Ski Resort? Let Stonebridge at Big White help! In addition to our decades of experience in the travel industry, we are committed to providing transparent travel assistance to our clients.
If you are unable to travel due to COVID-19 travel restrictions impacting your plans, we are offering a no-fee and fully refundable COVID cancellation policy.
With a dedication to transparency, we will ensure all supplier and partner refund and cancellation policies are outlined before any financial commitment is made. This way you have total peace of mind and 100% comfort before a deposit is made.
To make an enquiry or to start planning your dream ski vacation, visit our website or give us a call on +61 414 518 464.